Discover Mark's Powerful Copy That Top Marketers Have Invested Hundreds of Millions of Dollars In – and Earned Hundreds of Millions From
Current and Recent Controls by Copywriter Mark Johnson
Links on this page lead to full copy for each of these winning campaigns –
millions of dollars in market research at your fingertips.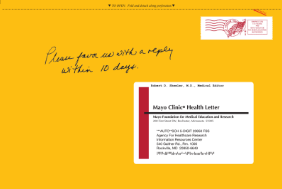 "The most successful monthly periodicals subscription piece ever written." – Target Marketing magazine
Mark's unbeaten control has mailed quarterly since 1995, with his ongoing content updates and offer enhancements.
The copy follows the "fascinations" style practiced by one of Mark's mentors and early clients, Eugene Schwartz. This letter has pulled over 5,000,000 paid orders all-time and is still going strong. (Click image to see full copy.)  
"I've worked continuously with Mark Johnson for twenty years. In addition to his suburb copywriting skills, he is very knowledgeable of the various media channels that marketers today must rely upon. Mark understands the subtilty of each channel and produces great results. His consistent performance kept me buying his services again and again and as such I highly recommend him to others." – James Hale, Director of Consumer Marketing, Mayo Clinic Health Letter  (Jim has retired … Mayo continues using Mark's copy and sending him new projects.)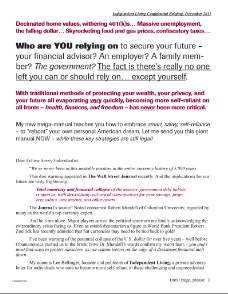 Mark's 16-page promotion for Independent Living beat a successful control written by the publisher, winning by 40% to 90% depending on list. (Not believing the initial results, the publisher tested four times before declaring a winner; Mark won all tests by at least 40%).
This publisher also reports that subscribers who respond to Mark's copy have a higher lifetime value than those replying to shorter promotions.
Published since 2006, Independent Living is the successor to The American Sentinel (1971-2006), the first newsletter ever issued by industry leader Tom Phillips. It is not the first time Mark's career crossed paths with Phillips' – both began their careers in the same pioneering direct marketing agency.
In his book "My First 40 Years in Junk Mail," famed copywriter Richard Armstrong notes: "The Richard Viguerie Company launched many notable careers in direct mail, including the superb copywriter Mark Johnson and one of the most successful marketers of all time, Tom Phillips, founder of Phillips Publishing."
"In my 30 year career as a self-styled niche publisher, I've worked with scores of writers. Most have been very good. However only Mark Johnson has invested the time and energy to capture my voice and my rather unique point of view. And the proof is in the pudding. I've been quite successful relying on my own copy for three decades, but Mark keeps beating my best work. So my ego is a bit bruised, but my bank account is significantly more robust. Mark's copy even helped me buy my waterfront dream house." – Lee Bellinger, Founder and Publisher, American Lantern Press (publisher of Independent Living newsletter)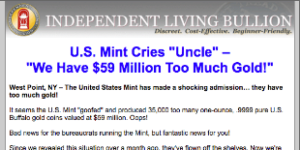 Mark received a phone call requesting that he attend a dinner that same evening with top executives of a leading bullion dealer. He was asked to bring a concept for a special gold coin promotion. Mark hastily wrote the headline "U.S Mint Cries 'Uncle'; We Have Too Much Gold!"
Being away from his office and without access to a printer, Mark presented the concept by passing his phone around the dinner table. The executives not only chuckled, they approved and deployed Mark's copy. The campaign pulled three times the client's budgeted response, selling 3,000 1-oz. coins in the first week. (Click image to see subject line and full copy.)
"Mark Johnson is a top-notch marketer who adds value to everything he touches.  I've hired Mark for dozens of projects over the past 5 years – video sales letters (VSLs), direct mail campaigns, email lead generation, content development and editing, and even new product creation from the ground up.  Mark is totally focused on meeting his clients' needs, providing high quality work with a fast turnaround.  He puts his own clever spin on every project.
"To give just three recent examples, Mark: 1) wrote a campaign that sold nearly $5 million of gold in just 4 days, recruiting 250 new customers in the process; 2) scripted and produced a fantastic video sales letter which has already converted more than 3,000 leads into paying customers; and 3) created a marketing template for our monthly gold/silver savings plan which we have successfully used and reused in both email and direct mail. If you hire Mark, I simply ask that you don't use up all his time – I need him available for my projects!" – Stefan Gleason, President, Money Metals Exchange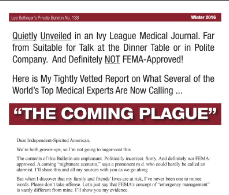 Mark's 28-page direct mail promotion upsells $49 newsletter subscribers into $247 hard-product buyers.
Because the product is unfamiliar to most readers, it is not revealed until page 14, by which time readers have been educated about the problem and are looking for a solution. The dozen pages of research on novel pathogens and related topics was developed by Mark – none was previously published by the client.
This letter soundly beat the publisher's long-running control for this alternative health product.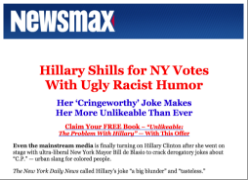 Mark has worked with conservative, libertarian, and independent political initiatives (publishers, candidates, political action committees, grassroots organizations) since 1976.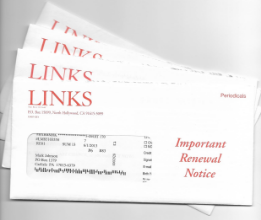 Mark has written hundreds of subscription renewals for Rodale, Bottom Line Publications, Mayo Clinic and other publishers, many of them breakthroughs. His 4-effort subscriber renewal series for LINKS, The Best of Golf resulted in this thank-you note –
"Mark, Congratulations on a stellar performance for your new copy… by far and away the consistent winner (40%-50% bump). Thanks for all your help!" – Frank Mackay, Circulation Director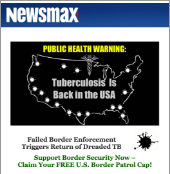 Mark is one of the most prolific writers of premium-based subscription offers, using both editorial and hard-product premiums. For many offers, he recommends the premium to be used, and in the case of editorial premiums, he often writes or edits them personally. The magazine subscription promotion shown here uses one the most successful hard premiums created by this publisher.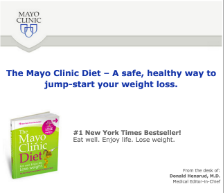 Mark has written successful copy for numerous weight loss offers and hundreds of books. He has written email and direct mail copy for every consumer health book published by Mayo in the past 20 years including their best performing book, The Mayo Clinic Diet, a New York Times Bestseller. Mark's copy has been very successful for this publisher in spite of the restrained style required managers of this world-renowned brand.
Mark's Legacy Copy: 30 Years of Classic Direct Response Controls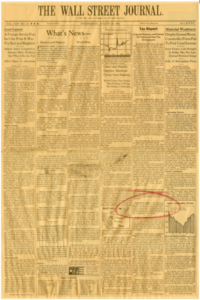 Results of the first major direct mail campaign Mark ever wrote were reported on the front page of The Wall Street Journal on August 29, 1984 –  
His copy has been pulling orders in droves ever since …
Mark has written successful direct mail and online promotions in dozens of categories –
Aging and health

– Mayo Clinic on Healthy Aging; Mayo Clinic Guide to Better Vision; Mayo Clinic on Better Hearing and Balance; Mayo Clinic Guide to Pain Relief

Agriculture

– Dairy Profit Weekly newsletter; New Farm magazine

Arthritis

– Mayo Clinic on Arthritis

Birds

– Audubon;

Academy of Natural Sciences of Philadelphia

Boat building

– Wooden Boat magazine

Business-to-Business

– Penton Media; WebMD Continuing Medical Education

Cancer

– Mayo Clinic Breast Cancer Book

Charity

– American Red Cross of Southeast Minnesota,

pro bono

Complementary and alternative medicine

– Mayo Clinic Book of Alternative Medicine

Cooking

– Gourmet magazine; Fix It And Enjoy It Healthy Cookbook; New Mayo Clinic Cookbook; Mayo Clinic Going Gluten-FREE; Mayo Clinic Kids' Cookbook

Country living

– Old Farmer's Almanac; Reiman Books

Crafts, sewing, quilting

– Interweave, Rodale

Current events

– Newsmax magazine

Cycling

– Bicycling magazine

Diabetes

– Mayo Clinic Essential Diabetes Book; Mayo Clinic Diabetes Diet

Digestive health

– Mayo Clinic on Digestive Health

Family health

– Mayo Clinic Family Health Book; Mayo Clinic Guide to Fertility and Conception; Mayo Clinic Guide to Your Baby's First Year

Finance

– Independent Living Newsletter; Money Metals Exchange; Tax Avoidance Digest

Fitness

– Mayo Clinic Fitness for EveryBody

Gardening

– Organic Gardening magazine; Encyclopedia of Organic Gardening

Golf

– LINKS magazine

Heart health

–

Dr. Crandall's Heart Health Report;

Mayo Clinic Healthy Heart for Life; Mayo Clinic 5 Steps to Controlling High Blood Pressure

Home improvement

– TIME-LIFE Home Improvement series; Practical Homeowner magazine

Home remedies

– Mayo Clinic A to Z Health Guide; Mayo Clinic Book of Home Remedies

Medicine

– ObamaCare Survival Guide; scores of business-to-consumer promotions signed by medical doctors

Men's interests

– GQ magazine; Mayo Clinic Essential Guide to Prostate Health

Mental and emotional health

–

Dr. Gary Small's Mind Health Report;

Mayo Clinic on Alzheimer's; Mayo Clinic Handbook for Happiness & Guide to Stress-Free Living

Political books

–

Lessons My Father Taught Me by Michael Reagan;  American Gun by Chris Kyle

Prepping

–

Mark collaborated on the creation and launch of each of these products –

Personal Off-the-Grid Emergency Medical System

; 30-Day Emergency Food Reserve;

PowerWhisperer Mobile Power Supply System

Subscription renewals

– Bottom Line publications, Rodale, LINKS magazine, Mayo Clinic Health Letter, many more

Travel/regional lifestyle

– Yankee magazine

Women's health

– Mayo Clinic Menopause Solution; Mayo Clinic on Managing Incontinence; Mayo Clinic Guide to Preventing & Treating Osteoporosis; Mayo Clinic Guide to A Healthy Pregnancy

Woodworking

–  Norm Abram's New Yankee Workshop; TIME-LIFE Woodworking series; Rodale's Build-It-Better-Yourself Outdoor Furniture, American Woodworker magazine;
Contact Mark today about writing your next breakthrough.
603-809-0192 • mejcopy@gmail.com