"Mark keeps beating my best work … the proof is in the pudding!"

(see below)
A-List Copywriter Predicts Deadly
EMS Gridlock 18 Months in Advance;
His Client's $397 Product Sells Out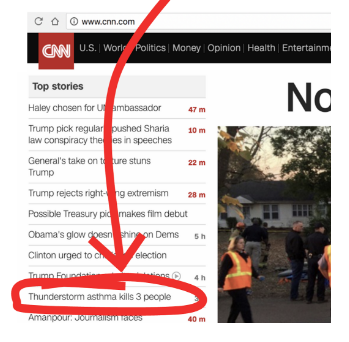 The tragic news out of Melbourne, Australia was unimaginable to most.
A widespread public health crisis triggered a flood of 1,900 ambulance calls in a span of just four hours. Overwhelmed, the nation's largest EMS system ground to a halt.
Tragically, three people died from thunderstorm asthma, set off by a potent mixture of wind, rain, and rye grass pollen.
But it wasn't just weird weather that killed. "Every hospital emergency department was full," reported CNN.  Sadly, one victim died in her loved ones' arms after a 40-minute wait for an ambulance that arrived too late.
While this deadly big-city EMS breakdown made news that shocked readers worldwide, one noted copywriter foretold this event in detail …  
He uncannily predicted this very scenario in direct response copy – 18 months in advance.
Copywriter Mark Everett Johnson did more than foresee this fatal EMS gridlock scenario; knowing the power of a compelling lead, he began his copy with it. Writing for a niche marketer of self-reliance information and products, Mark warned that "emergency rooms would be flooded … trusting your life to 9-1-1 could be your final mistake." Here's his exact letter lead: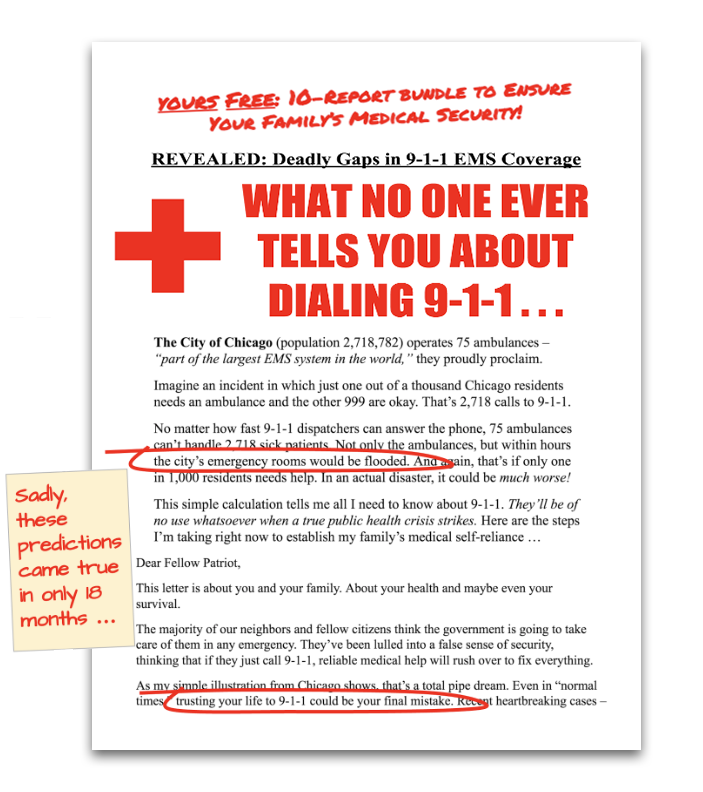 Turning Uncanny Forecasts into Marketing
Breakthroughs – "The Proof is in the Pudding"
Mark's spot-on prediction alerted readers that a life-threatening EMS failure that could strike anywhere in the world without notice. More, it gave them a chance to prepare by obtaining Mark's client's Off-the-Grid Emergency Medical System, an advanced survival product Mark helped develop; the kit's dust masks would have protected most Melbourne victims. This $397 medical kit sold out within weeks of release of Mark's letter (see Mark's full 20-page letter here).
Does a copywriter's knack for predicting black swan events make him a marketing genius?
No – making accurate forecasts to enhance marketing results is more about paying close attention to cultural trends and scientific developments, and seeing outcomes others miss.
Such forecasts can translate into game-changing sales results for direct marketers. The client for whom Mark wrote the above letter has this to say about Mark's copywriting:

Three Decades of Powerful Direct Response Results for Major Publishers and Marketers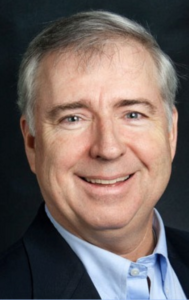 Copywriter Mark Johnson has been creating on-target promotions for publishers, non-profits, and other direct marketers for over 30 years –
Mark Johnson has had his finger on the pulse of the direct response marketplace for decades, including 25 years as a sought-after freelance copywriter.
Copywriting samples from Mark Everett Johnson
This copy has generated hundreds of millions of dollars in sales; you can see it all for free:
(Firewall keeping you from viewing in Google Docs?
Contact Mark
for pdfs.)
Has Mark written a promotion for you lately?
Request a complimentary review of your current control
by contacting him at mejcopy@gmail.com or 603-809-0192.